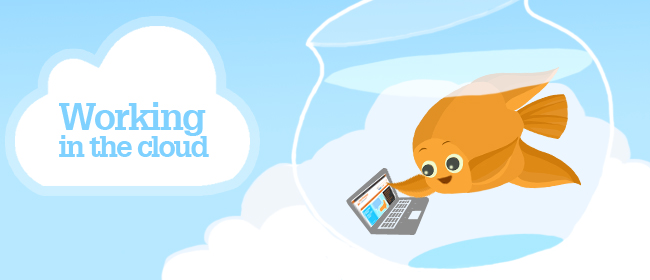 Cloud computing has exploded in the nonprofit sector for many reasons: it requires less IT support, it's accessible anywhere (as long as staff is connected to the Internet), and it's able to scale with growing nonprofit operations.
This is why this month, TechSoup Canada will be taking a look at working in the cloud. From the fundamentals of understanding the cloud to useful cloud tools, we will cover everything your nonprofit needs to know about cloud computing.
New content will be posted through-out the month, so be sure to check back regularly! 
About Cloud Computing

Cloud Computing for Nonprofits 101 (Webinar)
Imagine if you could work from anywhere and collaborate with others: how would you work differently in your nonprofit?

Cloud Computing Worldwide
TechSoup Canada and the TechSoup Network hosted a Cloud Computing Worldwide campaign. We've compiled blog posts, webinars, and dispatches from around the world on cloud computing for nonprofits, NGOs, and public libraries.


A Walk in the Cloud - Is Cloud Computing Right for You?
At our webinar, A Walk in the Cloud, there were lots of great questions about the cloud in general and some specific cloud tools in particular. Here are the answers to some of the most common questions. 


A Walk in the Cloud - Prezi Slides
I had the opportunity to share some thoughts on the trend towards cloud computing and what it means for Canadian nonprofits and churches. I shared some of the key ideas here.


Answers to Common Questions about the Cloud
At our webinar, A Walk in the Cloud, there were lots of great questions about the cloud in general and some specific cloud tools in particular. Here are the answers to some of the most common questions. 


Cloud Basics for Nonprofits and Libraries
You may not even realize that you're already likely using some cloud services at your organization. Indeed many are widely used with services like Google's Gmail or Yahoo mail, Google Apps, Microsoft Office Web Apps ...


Key Considerations for Cloud Adoption by NGOs
What does it do? What are the benefits for us? How much does it really cost? How safe is our data? What is the downside?


Security in the Cloud
"Nine out of 10 cloud computing users remain concerned about cloud security, yet 77% of businesses already use some form of cloud computing."


CRM in the Cloud: Right for Your Organization?
In this article, we'll look primarily at cloud-based CRM applications – that is, programs that your staff can access over the Internet.
Cloud Tools

5 Key Things You Need to Know About Salesforce
Whether your nonprofit is about to adopt Salesforce, is already using it, or would like to learn more, here are 5 key factors for you to know.

5 Essential Graphic Editors in the Cloud
You may have Adobe Photoshop, GIMP or other robust graphic editors at your nonprofit, but what if you just need to do a quick photo touch-up? Or perhaps you don't have the proper permissions to download and install software at work?

How to use Google Drive as Your Nonprofit's File System
Google Apps is a popular option for nonprofits, however it seems that many people are confused about the file/documents part of the suite, Google Drive (GDrive).

Cloud Tools for Facilitating Feedback on Design
Here is a list of nifty cloud solutions for facilitating feedback for projects that require group input (graphic designs for websites, posters, t-shirt logos, brochures, etc).

5 Simple, Free Ways to Send Large Files
If you need to transfer large files, such as .PSD (Photoshop), .AI (Illustrator) or video, to someone outside of your nonprofit, what do you use?

Office 365 for Nonprofits: Lunch & Learn Recap
To understand the impact of Office 365 on the Canadian nonprofit sector, Microsoft and TechSoup Canada hosted a lunch & learn to discuss Office 365 and its capabilities. 

How I went completely paperless (with help from my iPad)
There are lots of us in the nonprofit sector who still rely heavily on paper. The dream of "going paperless" has been around for a long time now, and hasn't been achieved for many reasons.