The TechSoup Canada program is open to charities, libraries and nonprofits incorporated under specific Acts of legislation (sadly, co-operatives and nonprofits incorporated under special acts are not eligible at this time). The first step to accessing the donations program is to register. We will review your application and match your organization with the discounts and donations for which your organization is eligible.
There are 3 Steps to Registering:
---
1) Sign up as an individual
This account will be linked to your organization in the second step.
Using an email address on your organization's domain or listed on your website can speed up the qualification process.
Remember your login credentials! These are the details you will use to login to your TechSoup Canada account.
---
2) Register your organization
Once logged into your individual account, you will see a link to register your organization.
You will be asked to provide your organization's:
Charitable registration number/ Incorporation number / Library symbol
Operating budget / projected budget
For charities and libraries, after submitting your application, there are no further steps and we will contact you if we require any further information! 
Has your organization registered before?
Occasionally, your organization may already have an account that everyone in the organization forgot about. Your attempt to register will flag our duplicate checker - you can send us an email at customerservice@techsoupcanada with your organization's information and we will be happy to help you retrieve your previous account.
Is your organization a branch?
We are able to qualify branch accounts under some circumstances. A requirement is that the parent organization should already have an account. 
If you are submitting a branch application please enter the parent organization's name and separate your branch location with a hyphen (e.g. TechSoup - Canada). We will review your application and reach out if further information is needed.
---
3) Submit documents (Nonprofits only)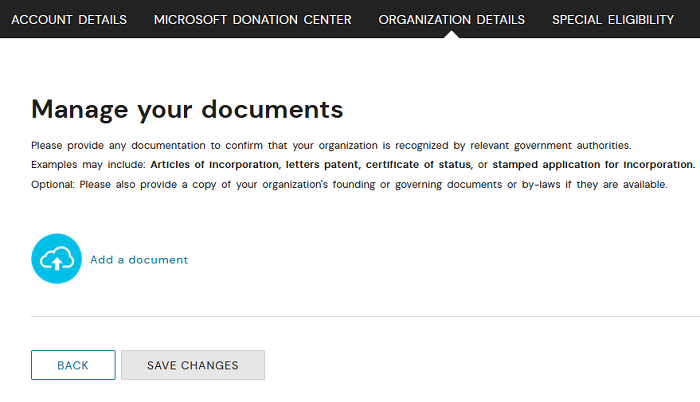 You can upload your documents to your account by clicking on the "Organization Details" tab.  We will respond to let you know we have received the documents. 
Please find the list of the documents required for nonprofits below. Each document should be issued by the nonprofits' respective Province unless otherwise stated.
---
Qualification
Once you have submitted your application and any supporting documents, we will review the information and verify it. We will reach out to the email addresses listed on the account if we require any further information. 
You will receive an email letting you know when your organization has been qualified to use the TechSoup Canada program.