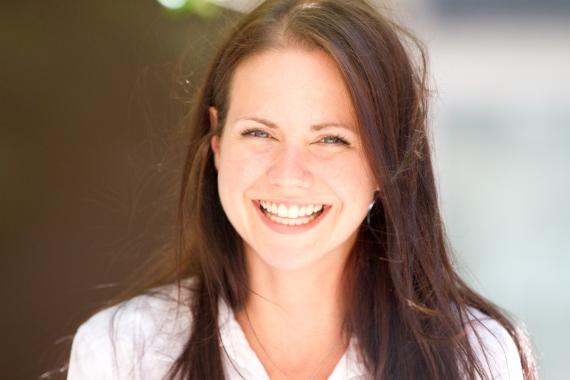 By: Katherine Winchester, Administrator, Mobile Giving Foundation Canada
Have you ever seen something like this?
"Text REDCROSS to 30333 to donate $5 to the Canadian Red Cross"
And wondered if this was something you could do at your charity?
I am no expert in fundraising, then again, I don't need to be. Text-to-donate is just one fundraising channel, and I'm here to explain to you how this channel works rather than give you a comprehensive strategy. Let me be completely honest with you: text-to-donate is not a strategy. Text-to-donate is a channel of delivery, i.e. one tool in a box full of various tools that are all needed to build one thing.
If you're among those that have seen a text-to-donate call to action, you're probably also among those that know of the success seen in emergency relief situations using this channel. So you're probably wondering at this point – "How do you create a sense of urgency without an emergency?"
I'll come back to this, first the facts:
Text-to-donate in Canada is made possible through the Mobile Giving Foundation Canada (MGFC), a registered charity whose purpose it is to enable text message donations for the benefit of other registered charities in Canada. Text-to-donate is only possible through the strategic partnerships that MGFC has established with:
the Canadian Wireless Telecommunications Association;
the Mobile Giving Foundation U.S.;
the Canadian Wireless Operators;
and the charitable organizations and qualified donees running mobile giving campaigns.

There are four components of every mobile giving campaign. The previously noted call to action contains all of the required elements: an 8 character maximum keyword (REDCROSS), a short code (30333), a dollar amount ($5), and a beneficiary charity (The Canadian Red Cross). Text message donations are available in the amount of $5 or $10 as a one-time tax exempt charitable gift. They will appear on your mobile phone bill or will be deducted from your prepaid balance. One can make multiple text donations up to $30 per mobile number, per short code number, per month.
So what happens with money collected from text message donations?
Good question.
MGFC invoices the wireless operators at the end of every month for the amount shown as pledged through the MGFC messaging platform. It can take up to approximately 60 days after invoicing to receive the funds from all of the participating operators. This window provides for varied billing cycles to run their course and to ensure that those who have pledged a text donation proceed in paying their bill on which the donation charge appears. MGFC is responsible for reconciling and remitting all funds donated through text message to their beneficiary charities.
In an effort to dispel any myths leading to the contrary, I'd like to highlight two points:
Wireless operators do not take any portion of funds donated through text message. They support mobile giving programs for free.
With the exception of the donation itself, the donor does not incur any text messaging fees associated with initiating and completing a text message donation. Talk about consumer friendly!
MGFC's Role
In summary, as the enabling charity of the mobile giving channel, we fulfill the following functions:
Validate applicant charitable status (CRA registration number) to ensure the legitimacy of organizations applying to offer mobile giving programs, i.e. an assurance MGFC provides to the wireless operators, eliminating concern by removing any opportunity for fraudulent activity.
Control standardized message script for all text-to-donate programs in compliance with the Canadian Common Short Code Application Guidelines.
Provision and test campaign keywords.
Track and report donations.
Consolidate individual carrier payments for charity remittance.
Enable the issuance of official tax receipts to mobile donors.
Provide support to all MGFC stakeholders.
Conduct research on, educate, promote, and build awareness around the mobile giving channel.
Build/grow messaging platform capabilities to expand the uses of the text to donate channel - e.g. recurring monthly sustainable gift.
What does it cost to run a mobile giving program?
Again, good question!
The details on cost depend on various factors such as how many keywords are being used at one time. To give you an idea of what to expect, running a campaign for one year can range in costs between $2,000 - $3,000. For more information on cost details specific to a campaign you're considering running with your charity, please contact support@mobilegiving.ca. 
Best practices for text-to-donate campaigns
Now that we've gotten the basics out of the way, we're back to the original question: How do we create a sense of urgency without an emergency? Remember, a text message is immediate, near instantaneous even – so the call to do so (to send a text message in response to a charitable call to action) must convey clear reasoning for the necessity of the immediacy. There are common observations among those most successful campaigns and involve the following general characteristics:
A need/void defined in the context of a text message. Meaning – the definition is short, concise, unambiguous, and quantitative.
A solution, a way to fill the void, which can be executed through the act of sending a text message.
The value of the charitable gift, qualified. Again, be concise.
The utilization of radio, television, print, and any source of free media whenever possible
Here's one campaign's message that I've closely observed, that is not tied to emergency relief, and in my opinion hits the above noted right on the mark: 
1 in 10 kids go every day without breakfast
$5 = breakfast for one kid, for one week
You can feed one kid breakfast for one week
Just text BREAKFAST to 45678 to donate $5 to Breakfast Clubs
For more background, see a full case study of this campaign and watch the PSA.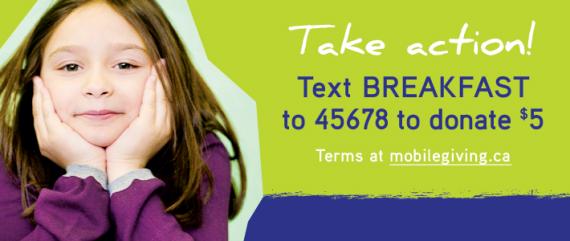 Image provided by the Breakfast Clubs of Canada for use by MGFC.
We've now looked at what text-to-donate is, how text-to-donate in Canada operates, and who you can contact for information on how much a text-to-donate program costs to run for your charity. I've given you the facts, along with some of my opinions and observations, and hope that this in turn will help you to answer your original question of whether or not text-to-donate is something you could do at your charity. We are constantly working on finding areas for improvement as well as areas for expansion, so we encourage your feedback in order to accomplish this. Keep the communication flowing and keep your eye out for more to come!
Update Dec 3 2012: Charity Village just published a discussion on some of the Canadian-specific challenges with converting text-to-give donors into ongoing supporters as well as some of the advances that have been made in the Canadian text-to-give market, which is a good read for anyone interested in this topic.
---
About the Author
Katherine Winchester is the Administrator for the Mobile Giving Foundation Canada. She is responsible for coordinating all aspects of Canadian operations, and has been for the past two years; taking on this position only shortly after mobile giving became available in Canada. Katherine has been working in the Telecommunications industry for the better part of the past four years, where the majority of her experience has been in various customer service positions and program management roles. With a degree in Psychology, obtained from Carleton University, Katherine's passion is in working with other people; understanding their motivations, needs, and behavior; seeing the bigger picture and the connection among all living things. Although she haphazardly fell into the philanthropic sector, Katherine has found her niche working among philanthropists and fundraisers; those also seeking a connection; those also seeking to make change in the world.