By: Tierney Smith, Community Manager at TechSoup Canada
This month's Toronto Net Tuesday was the first in our Technology Planning Series so it was all about introducing the idea of technology planning and sharing experiences.  If there was one big idea from the evening it was this: Technology is a tool, not a solution. Before thinking about technology you need to first understand the people who will be using the tool and their processes.
Jane Zhang - TechSoup Canada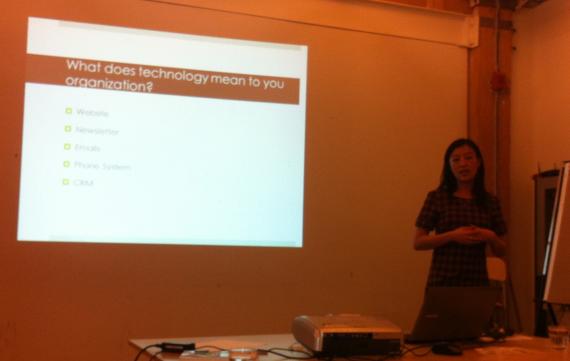 Jane, our first speaker, is the Program Director of TechSoup Canada. In her talk, Jane started off by reminding everybody - even the least techy among us - how much technology we use every day, including emails, phones and websites. But while we often think of these things when we think of technology, what's most important is what technology allows us to do: tell stories, have conversations, share ideas, exchange knowledge and build communities.
As nonprofits we need to make sure that the technology we use is helping us to achieve our mission. We can do this by setting goals and prioritizing (where to allocate our limited resources), having conversations with staff and other stakeholders, and understanding the related processes. Only once this is done should we try to fit the pieces together and find the tool(s) that will meet our needs.
Also, don't forget to cover the basics - security, backups and (relatively) current software are essential for all nonprofits.
Jane mentioned some technology resources including:
Jane's Presentation on Technology Planning
Doug Bastien - OCASI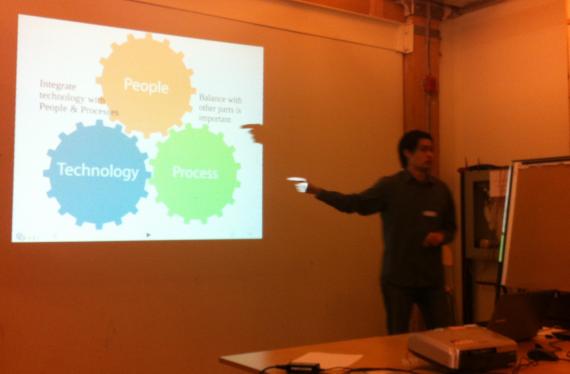 Our second speaker was Doug Bastien, the Online Capacity Development Facilitator with the Ontario Council of Agencies Serving Immigrants (OCASI). Doug used the analogy of gears to show that technology on its own doesn't drive an organization - people, process and technology all drive an organization together. This applies generally to all nonprofits and Doug shared how OCASI has embraced this by using an open, experimental approach (try it and see if it sticks). This means that all staff at OCASI - not just the IT department - have a role to play in determining what technology is used and how. 
In particular, Doug mentioned some tools used at OCASI including:
Doug's Presentation on Technology and Nonprofits (done in Prezi)
Videos of the speakers and Q&A are on YouTube.
After the presentations we had three breakout groups to discuss our upcoming Toronto Net Tuesday topics: collaboration and productivity, managing your relationships and sharing your story. I was at the collaboration and productivity table where we shared our experiences with tools such as Skype, WebHuddle (screen sharing) and Sharepoint, and discussed using a buddy system for pairing newer technology users with people more comfortable with technology to smooth transitions. Overall it was a great evening with lots of networking and I'm looking forward to next month's event.
For those of you who weren't able to attend, we will be running a webinar on March 22 where Jane will be presenting again on technology planning for nonprofits. Register here!