You can use this guide if you have placed a Microsoft donation request through TechSoup Canada, have logged in to the VLSC, and now are ready to install your donation.
If you have not yet requested a donation, please see our How to Place an Order guide.
If you have not yet created a VLSC account, please see our How to set up a VLSC account guide.
Microsoft also offers a nonprofit discount for Office 365 and other cloud services. Technical questions about these programs should be directed to Microsoft.
Step One: Download Your Requested Software
To download your software:
If you haven't already, sign in to the VLSC. If you have not yet created a VLSC account, please see our How to set up a VLSC account guide.
Choose Downloads and Keys from the navigation bar. 
Find the specific product you want to download. You can download the current or previous version of most Microsoft products you have requested through TechSoup Canada.
Once you have found your product, click the associated Download link. 
Select your download method, language, and operating system type (32-bit or 64-bit). This Microsoft support page explains how to check your computer's operating system type. Once you have selected from these three options click Continue.
Multiple files may now appear below, but you only need the file that refers to the product you requested, e.g. "Office Standard 2016 32 Bit English" or "Windows 8.1 Professional 32 bit English." Click the download arrow associated with your file to begin downloading your installation files.

Step Two: Locate your Product Key
You can find product keys associated with your software by clicking the Key tab under the Downloads and Keys section of the VLSC. 
There are a few different types of keys, but the simplest option is to use a Multiple Activation Key (MAK). You'll enter this key on each computer where you install the software. 
Each MAK can be used multiple times to activate the software on multiple machines. The number of times you can use the key is based on the number of units you ordered through TechSoup Canada.
If you see several MAK-type keys, you can identify the most recent one by going to Licenses>Relationship Summary in the main menu, and looking for the license ID with the latest End Date. (Please note, this End Date corresponds to the end date of your Software Assurance, it is not an expiry date for your license itself. Your Microsoft license will not expire.)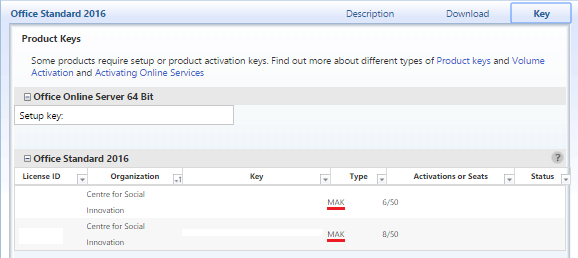 We recommend copying and pasting your key to a safe place for later use. You will need to enter your key when you install your software.
Not all products require product keys to be activated and used. For products that don't require a key, the Product Keys field reads: "This product does not require a product key."
Learn about other types of keys and activation options if you are installing software on many computers on a network in Microsoft's Product Keys FAQ.
Step Three: Install your Software
If you have completed Step Three, you should now have the installation file on your computer. Not sure where to find it? Try looking for it in your Downloads folder.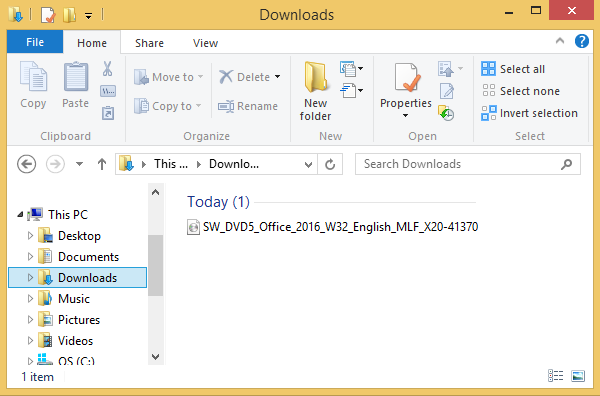 The downloads from Microsoft's Volume Licensing Service Center (VLSC) are usually ISO files, not executable (.exe) files, so you need to perform additional steps before you can use one for installation. What's an ISO file? Most simply put, it's a single file containing all the data from a disc, similar to a compressed ZIP file.
We have included three options below for opening and using an ISO file.
If you get an error message at any point during these steps, you can find some troubleshooting tips here. If you are not able to solve your issue, contact the VLSC for support.
Option 1: Mount the ISO as a Virtual Drive
This option is pretty easy if you are only installing your software on one computer and you are using Windows 8 or a newer version.
Right-click the ISO file and select Mount or Mount as Virtual Drive. 
A new drive should appear on your PC called DVD Drive, double-click this drive.
In the list of files, find setup. This setup file is an "Application" (.exe) file.
Double-click setup and follow the installer's prompts. 
If you are installing the software on multiple computers, or a colleague's computer, simply copy the ISO file onto a flash drive and perform these steps on the computer that requires the software.
Option 2: Extract the Installation Files to Your Hard Drive
This is a good option if you are not able to Mount the ISO file.
An ISO file is a lot like a ZIP file. If you are familiar with extracting ZIP files, you can use the same method for accessing your ISO file. You may need to use a piece of software like 7-Zip or WinZip.
Create a new folder on your Desktop and give it a name. 
Right-click the ISO file and select the extraction software you would like to use. 
Extract the files to the folder you just created on your Desktop. 
Once the extraction is complete, click into your new folder.
In the list of files, find setup. The file type of setup is "Application" (.exe file).  
Double-click setup and follow the installer's prompts. 
Option 3: Create Installation Discs
If you are installing the software on multiple computers, and have access to a DVD writer, then burning the ISO to a DVD is a good option.
To burn your ISO file to a disc for easy installation:
Insert a recordable DVD into your disc burner.
Right-click the ISO file and select Burn disc image. 
Verify that the correct drive is listed under Disc burner. If not, change it. 
Check the box next to Verify disc after burning and click Burn to begin writing the disc. 
Once your ISO is burnt onto your DVD, insert the DVD in any computer to start the setup. The DVD can be used multiple times.
Step Four: Activate Your Software
Following one of the options above should begin your software installer. From this point, you can follow the installer's prompts until your software has been successfully installed.
The installer may prompt you for the product key you found on VLSC (see Step 4) or you may be able to continue without registering the product.
For Office Suite products, you can enter the product key by opening any Office Suite application and clicking Account and then Change Product Key. We recommend you do this as soon as possible to avoid interruptions when using your software.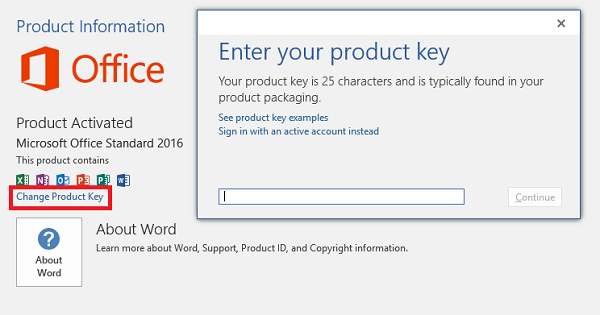 How to contact VLSC for support
While you can always contact TechSoup Canada with any of your questions, most of your Microsoft/VLSC concerns can be more actively addressed by VLSC support.
VLSC support is included in your Microsoft donation, so if you have any issues with VLSC or your Microsoft software you are welcome to contact the VLSC Support Center.
Si vous voulez un service en français, envoyez un courriel à vlservem@microsoft.com avec votre demande, ou remplissez ce formulaire.
Here are some tips for contacting the VLSC:
To confirm your identity and your licensing details, VLSC support may ask for the license and authorization numbers associated with your donation. You can find these by logging into the VLSC and clicking Licenses > Relationship Summary from the main menu.
If you are not able to log into the VLSC to find your license and authorization numbers, please email customerservice@techsoupcanada.ca and describe your issue. An Account Manager will email your license and authorization numbers to the organizational email address on your account.
If VLSC support asks you to call your reseller to resolve your problem, explain that you did not receive the license through a reseller. TechSoup provides a service to Microsoft by administering one of their donation programs, but your licenses were issued directly by Microsoft. TechSoup Canada is not a Microsoft reseller. Our Account Managers do not have the tools required to resolve issues within the VLSC. 
If you need more help, try reading our other topics about common VLSC tasks, including:
Have you tried following these steps, but are still experiencing issues? Try checking out the following resources: