By: Owen Baker, content marketer for Voila Norbert. 
One of the most valuable tools available to digital marketers is email marketing. If used properly, it has extraordinary potential to increase revenue and boost return on investment (ROI) in your marketing efforts. But your results depend significantly on your emails' timing and content.
A surefire way to power up your email marketing is to set up email sequences. Not only does this streamline and simplify a time-consuming process, but it also offers a greater likelihood that your campaigns will convert.
According to McKinsey, the average order value (AOV) of a purchase made as a result of email marketing is at least three times higher than that of a purchase made as a result of social media marketing. If you automate your email marketing, your nonprofit can also benefit from this effect by increasing donations and engagement. Thankfully, email sequences allow you to do just that.
Let's explore the topic in more detail. 
What are email sequences?
A sequence is a predetermined collection of emails automatically sent to individuals on your email list. A sequence can either be trigger-based or time-based.
When your audience members take specific actions, such as subscribing to your email list, browsing to a particular piece of content, or making a donation, trigger-based emails are delivered. 
On the other hand, time-based email sequences are set up to send emails at specific intervals, such as right after an opt-in or a specified amount of time after a visitor makes a donation or downloads a piece of content.
Here are some other events that could result in a time-based email sent to your subscribers:
Right after the opt-in process
30 days after first donation 
On the anniversary of subscription
Whether your email sequences are trigger-based, time-based, or both, all you need to do is set them up once, and then they'll do your work for you. The right email sequence can take people on a journey from their first encounter with your nonprofit organization to becoming enthusiastic donors who are also advocates for your cause.
Why should you use email marketing sequences?
You cannot expect all of your meaningful communication and marketing correspondence to be handled manually. Email sequences provide you with an automated way to provide your leads, prospects, and benefactors with ongoing communication while striving to build a strong foundational relationship with them. Sequences allow you to time emails to arrive when they are likely to have the most effect. 
Good results in email marketing rarely come from one-off messages. They are often linked to a broader purpose, whether it is to welcome new subscribers or to encourage current donors' loyalty. Each of these sequences should be viewed as its own mini-campaign.
The first step in designing a plan is to think about what kinds of sequences you will need to create and what they would look like. Here are some you may wish to consider: 
A welcoming sequence for new subscribers, allowing them to get to know your organization, learn more about its work, and see behind the scenes.
A sequence of thank you emails to new donors, showing your gratitude and how their donation will have an impact.
An event-based series ahead of significant dates, encouraging recipients to sign up.
A sequence of loyalty emails intended to bring lapsed donors back onto your side.
At the end of the year, a donation series based around holiday giving. 
Each sequence can consist of between two and five emails, adequately spaced out and sending a cohesive message that is aligned with your central goal. These emails should always be personalized - so make sure you segment your audience accordingly so you can send the most relevant content to everyone. 
Some general tips for great email sequences
Regardless of the email sequence you're using, some general rules of good practice apply across the board if you want to get the best possible results. 
The overall look and feel of the email should represent the identity of your organization. The design, imagery, style, and tone that you use matter. Below is a checklist for building and designing effective and professional emails: 
Use a straightforward template: To deliver your message in a reader-friendly way, keep your layout elegant and uncluttered.
Build a persuasive subject line: Your headline should define your email's content and pique the interest of your reader. Make the subject line stand out by keeping it simple, concise, and compelling. Using the customer's name in the subject line is even better. 
Include a call-to-action button: To inspire subscribers to take action, every email you send must have a simple and compelling call-to-action (CTA). 
Use bullets and subheadings: Breaking your content into pieces makes it easier to read.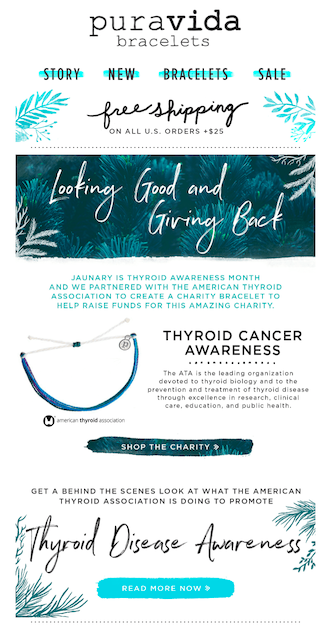 Source: NonProfitMarCommunity
The above example from a thyroid cancer charity is stylish, concise, easy to read, and contains both a compelling offer (free shipping) and a clear CTA ("shop the charity"). 
Five email marketing sequences you should set up for your mailing list
Some common types of email sequences are available for all businesses to benefit from. However, the steps taken by a customer will depend on your product and industry.
Email sequences are used to build lists and connect with the existing customers by presenting them with valuable knowledge and new opportunities for upselling to improve consumer satisfaction. You can use email verification software to ensure the subscriber email addresses are valid. This will help improve email deliverability to your list.
You can also create email sequences linked to your lead magnets. We have five email marketing sequences spanning different industries to help you develop a deeper connection between yourself and your new email subscribers.
1. Welcome email sequence
When people subscribe to your mailing list, it is their first step on a journey that will hopefully lead to their becoming donors and advocates for your cause. Therefore, the first step must be to welcome them. They are interested in learning more about your organization and its work. It is their way of telling you that your mission is supported and that they believe in what you do.
You let the email subscriber know that they are important to you when you send a welcome email sequence. Welcome emails have one of the highest rates of opening and conversion of all forms of email marketing! 
Check out this amazing example from Four Freedoms Park Conservancy: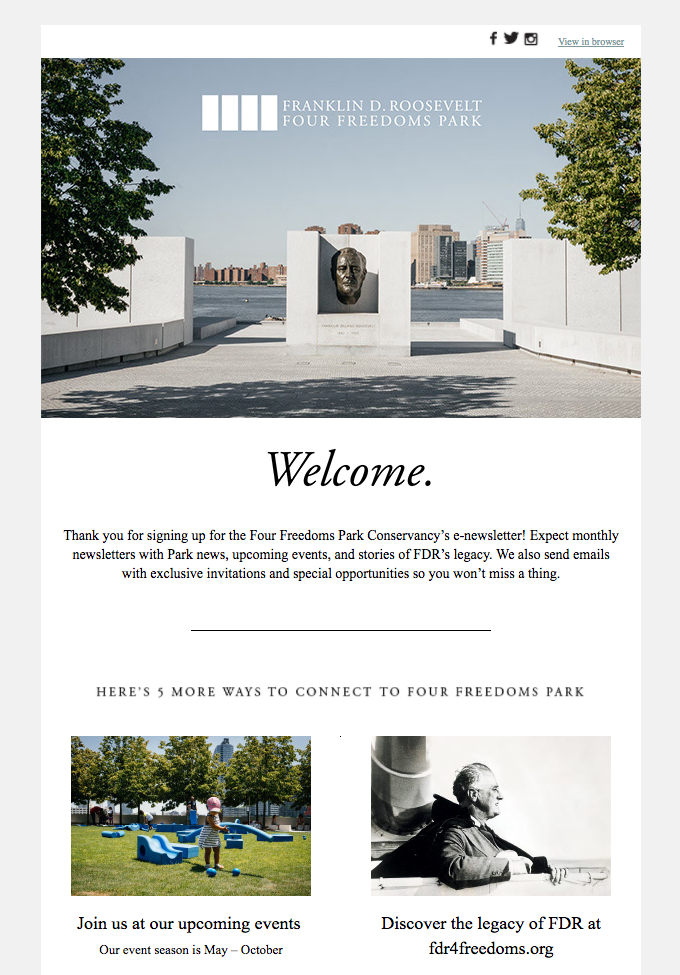 Source: Chamaileon
The email welcomes the user, thanks them for signing up, and lets them know how frequently they should expect to hear from the organization and what subsequent emails will contain. It also lets the new subscriber know how they can communicate with the organization.
This welcome email is fantastic because it does exactly what it is intended to do: it says thank you, offers a warm welcome, and provides straightforward information. 
2. Onboarding email sequence
Automated welcome messages can be the first step in forming a partnership, whether someone signed up via your website or a clipboard at a community event. 42% of donors prefer to hear from their favorite nonprofits via email, according to a new survey by Campaign Monitor. 21% of respondents also indicated that they were motivated to donate by nonprofit organizations' emails: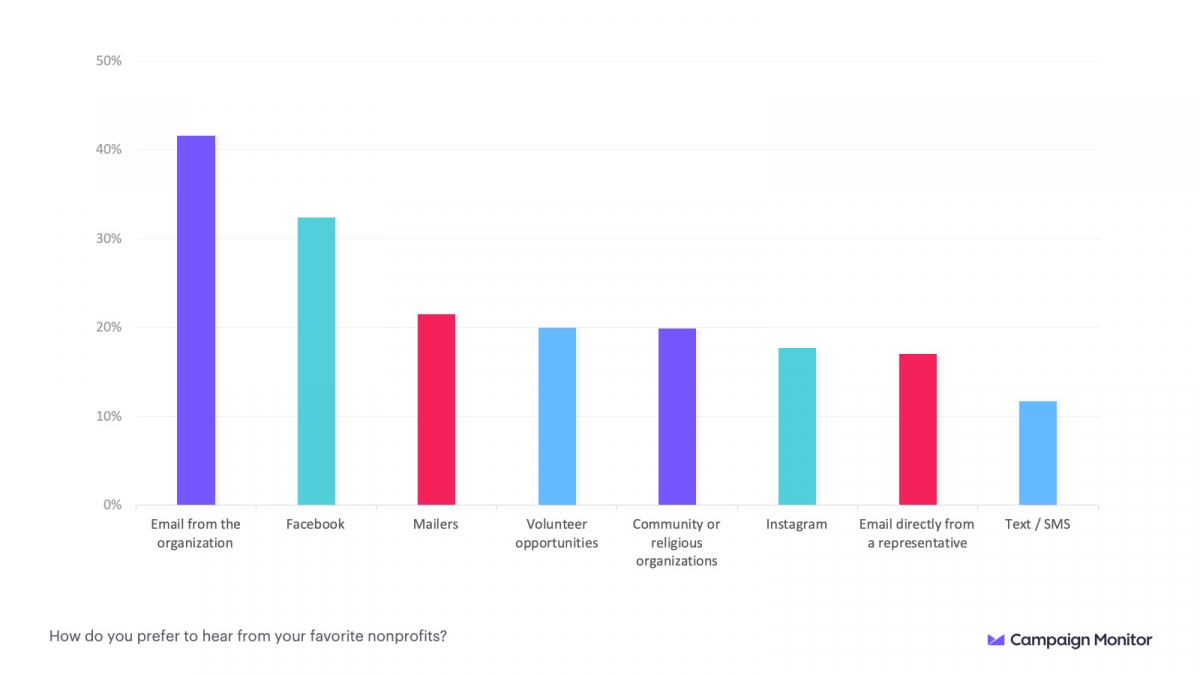 Source: Campaign Monitor (Wishpond file)
The email order is incredibly important in an onboarding sequence. Naturally, you need to give your subscribers a personal introduction to your organization before asking them to make any financial or time commitments.
Here's a great example from Save the Children: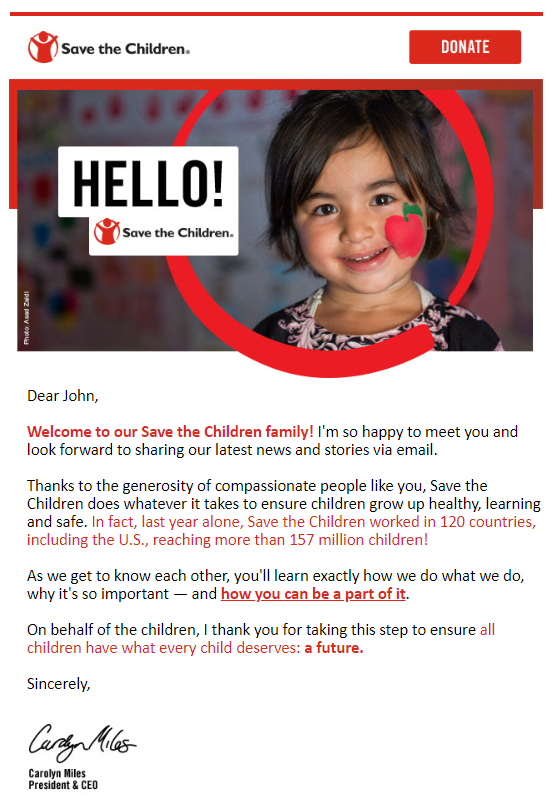 Source: Classy
This onboarding email thanks the recipient for joining (using their name), talks about the difference their support will make, and invites them to learn more about getting involved. Though there is a donate button, it's secondary to the key message of the email. 
Your onboarding email is extremely important and will help determine whether your future campaigns will succeed. This is your opportunity to bring the recipient even more onto your side, so don't waste it. 
3. Lead nurturing email sequence
A lead nurturing series is an essential component of your marketing strategy. Nurturing your leads involves keeping them aware of what's happening in your organization and letting them know that you still need their help. 
A lead nurturing email sequence might begin with offering a "lead magnet" - something you offer in exchange for their contact information, such as a free piece of exclusive content or an invitation to a webinar. You can then follow up with relevant content using email automation.
Establishing and enriching your relationship with potential benefactors through email marketing will ensure your organization stays on their radar. Here's a sample flow for a lead nurturing email sequence: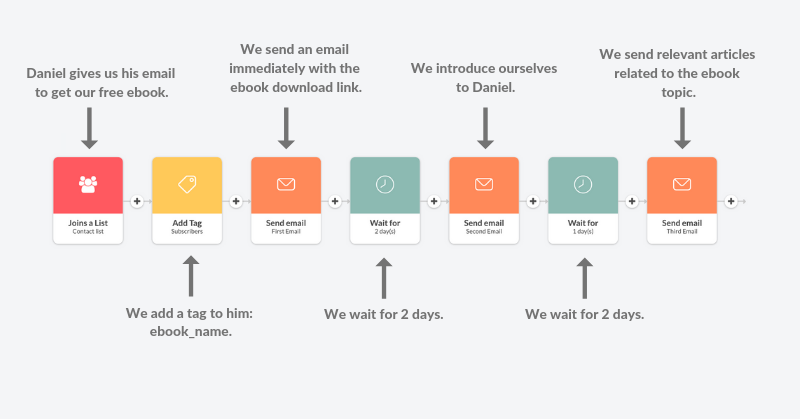 Source: Automizy
The frequency of your emails to subscribers is just as important as the content itself. An effective lead nurturing email sequence will utilize waiting periods in between emails to avoid being marked as spam. 
Here are a few useful examples of sequences you could use for your organization: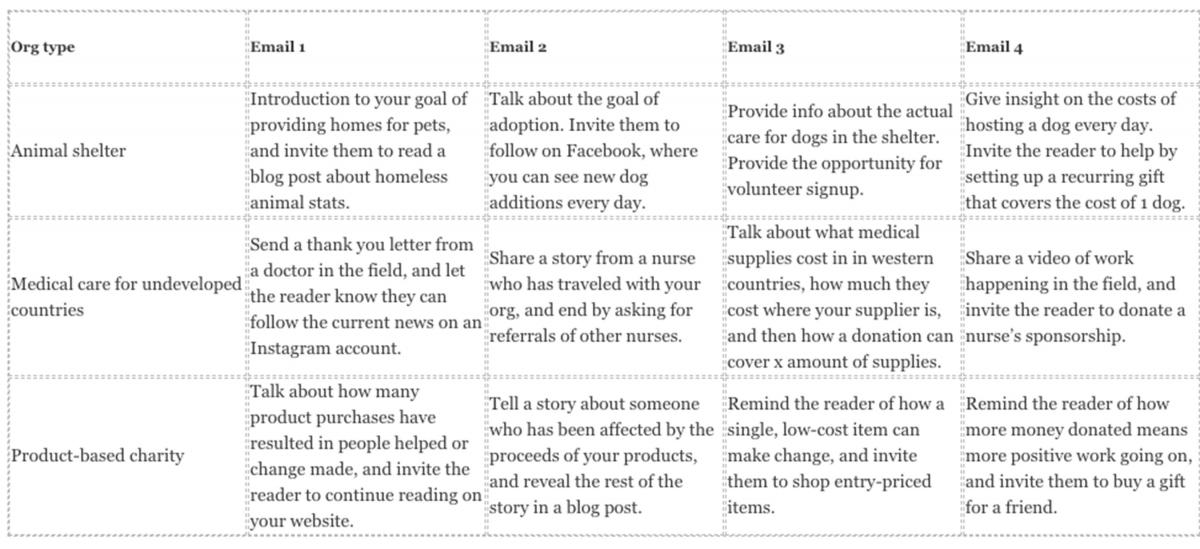 Source: Kindful
The beauty of lead nurturing emails is that you can identify the kind of content that attracted the subscriber in the first place and set up targeted emails using that data. Using behavioral email workflows, you could create a more sophisticated email sequence that delivers content that is highly relevant to individual subscribers.
4. Event email sequence
A collection of emails sent about an event (which could be physical or virtual) is called an event sequence. These sequences encompass both pre-event and post-event emails. Before the event, pre-event emails notify individuals that it is happening, get them excited about taking part, and advise them on how to plan for the event. 
Using a pre-event email sequence, you can:
Share the event details.
Highlight benefits for attendees.
Share your previous participants' feedback about your events.
Answer frequently asked questions about your nonprofit and your projects.
Here's an example from Cancer Research UK ahead of its Race For Life event. In this email, the organization thanks the participant for registering, provides more information on the event, and shares some ways to stay involved ahead of the race: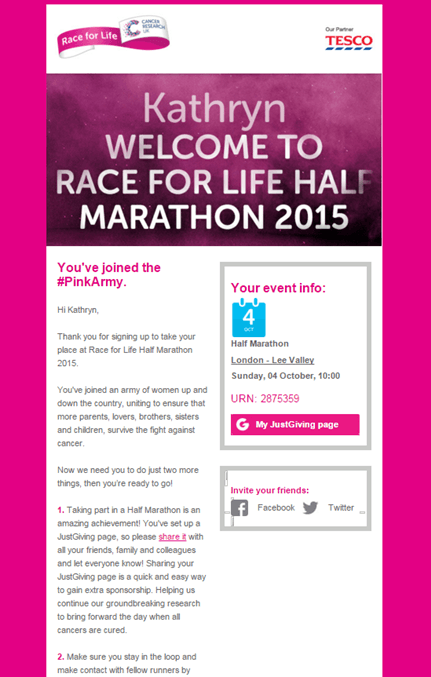 Source: Upland Software
A post-event email sequence, in contrast, might include an email asking for your participants' feedback about the content and mode of delivery, a calendar of future events, and perhaps a link where your participants can make a donation to your organization.
Here's the post-event email the Race For Life participant received: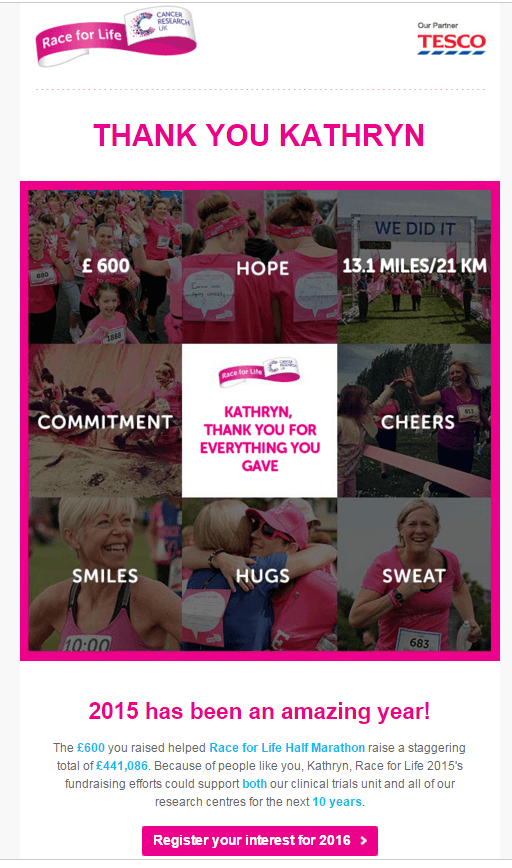 Source: Upland Software
It thanks her for taking part, shares the successes of the event, and invites her to register her interest for the next event. 
5. Re-engagement sequence
Email cancellations are not the only way to "lose" supporters. An analysis conducted by Marketing Sherpas reveals that your email list could lose up to 22.5% of its total subscribers in a year. While it's important to keep attracting new subscribers, it's just as important to retain current ones. 
Your new email subscribers will likely demonstrate a high degree of loyalty to your brand at least for the first few months, but some subscribers turn into inactive contacts after some time. Here are some reasons your subscribers stop engaging with your organization:
Unnecessary and frequent emails.
Loss of interest in your newsletter or projects.
Found other causes to support.
Confusing email layout and design.
Irrelevant and repetitive content.
Lack of understanding of your organization.
Subject lines tend to be clickbait and don't deliver on what they promise.
While you can't avoid losing some subscribers, it's always worth trying to engage them again before you give up on them. Subscriber retention costs very little compared to attracting new subscribers, and if your nonprofit loses subscribers at an alarming rate, it's time to develop a new retention strategy. 
Here's an example of a re-engagement email from bird charity RSPB, which invites the recipient to opt-in to keep receiving emails from the organization: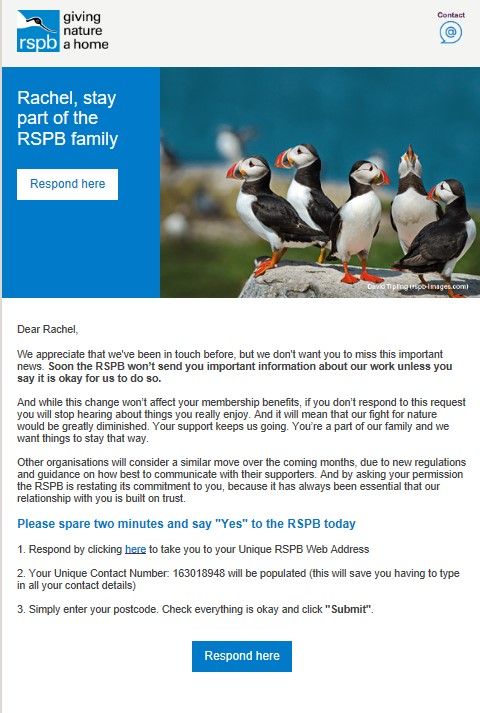 Source: Rachel May via Pinterest
Here are seven best practices we've observed in many successful re-engagement email sequences:
Send personalized emails: When sending out emails, use the subscriber's name and emphasize why they should care about your cause.
 
Offer them freebies: Sending something free is always a great way of re-engaging your subscribers. It could be anything from upgraded content to discount codes for events.
 
Target their emotions: You can use this opportunity to evoke your subscribers' sense of empathy. 
 
Segment your list of subscribers: Segment your inactive users according to factors such as age, gender, and location. You might need to consider different approaches to engagement for certain segments.
 
Offer them ways to stay connected with you: You can offer them your social media channels to help them stay up-to-date and get to know your organization better.
 
Remind them why they signed up: Reiterate the issue that drove them to subscribe in the first place, then give them an update about what you've done so far to address it.
 
Provide a visible unsubscribe option as well: It seems counter-intuitive, but the choice to unsubscribe from your list should be offered to your subscribers. Aside from being illegal, not having an option to unsubscribe will make your subscribers feel like you're holding them against their will.
Decide how long you want to wait after sending your re-engagement email, then be prepared to clean your list of email addresses that no longer engage with you. A smaller and more engaged following is better than sending out thousands of emails that will never be read. 
Wrapping Up
It is relatively easy to create and automate an email sequence. Organizations of all sizes can and should use effective email sequences to establish and maintain relationships with their subscribers. Your emails may be trigger-based or time-based, but should always follow email marketing best practices and be aligned with your organization's mission and values. 
Even though you're running a nonprofit, your subscribers are also a type of customer. This means you should apply a marketing approach to engagement. Running and funding a nonprofit is hard work, and your supporters are your biggest and most important asset. By using email sequences effectively, you will be able to attract new subscribers and convert them into donors, volunteers, or advocates for your programs.
---
About the Author
Owen Baker is a content marketer for Voila Norbert, an online email verification tool. He has spent most of the last decade working online for a range of marketing companies. When he's not busy writing, you can find him in the kitchen mastering new dishes.