By: Sam O'Brien, Director of Digital and Growth for EMEA at RingCentral
Nonprofits need technological innovation just as much as private enterprises. However, nonprofit organizations and private businesses have different priorities. This gives rise to the need for specialized digital solutions in cloud computing for nonprofits.
There are numerous ways nonprofits can benefit from integrating cloud technology into their processes. This includes having systems for streamlining document management, donor communications, donation processing, data reporting, and volunteer applications. 
What is Cloud Technology?
Cloud technology is how many different services are made available through the Internet. These services include email solutions, data storage, analytics, and video conferencing companies like 3cx (an open standard, software-based phone system).
Instead of storing data on a hard drive or on-site server, cloud-based storage keeps your data on a server off-site. All that is required to access it is a connection to the Internet on any of your devices. Private businesses are adopting this technology for a multitude of reasons. Such as: to save money, save time, encourage collaboration, increase cybersecurity and improve operational efficiency.
This article highlights four ways that cloud technologies can be best harnessed by nonprofits.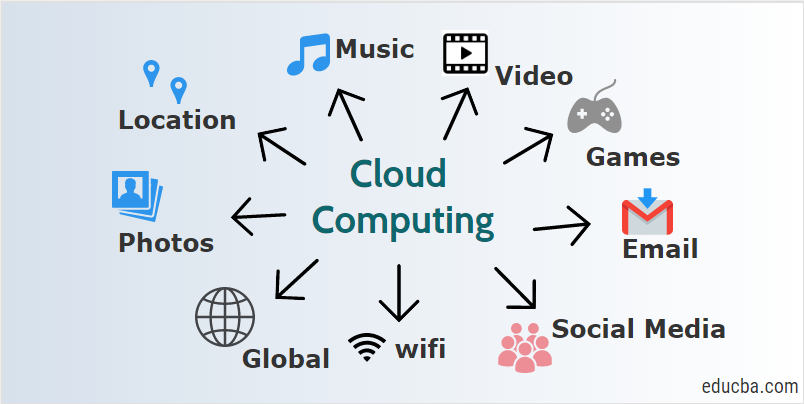 Source: Educba.com
1. Automated Donor Communications
Communicating with both prospective and existing donors has never been easier than it is now. Cloud computing enables your nonprofit to automate all of your marketing messaging and target donors at every stage of the funnel.
Tailored email drip campaigns can be set up to serve a variety of purposes, such as engaging with prospective donors, onboarding a new donor, and giving news to existing donors. This removes the grunt work from vital tasks such as lead generation and donation appeals.
Updates to your nonprofit's social media pages can also be automated through cloud technology. Posts can be scheduled multiple times per week, day or hour. Implementing an automated system allows your team to be freed up and to apply their time to other important tasks and bigger projects.
As well as saving your time, automated communications can improve your engagement metrics. Consistent messages aimed at your donors can positively affect the number of people who open your emails, read your product descriptions, and watch your videos. The result is more exposure and support for your nonprofit organization.
2. Streamlined Document Management
Cloud-based document management systems enable you to streamline your operations and projects. There are many advantages for nonprofits, including streamlined workflow processes and reduced financial costs through robotic process automation (RPA).
By using cloud technology to manage your documents, you can avoid the hefty costs of building and maintaining a computer network on-site. Monitoring servers, installing upgrades, and hiring a network administrator will all eat into the funds you have raised. 
In addition to saving on financial costs, you will also save a lot of time and effort. Cloud-based file management systems can be set up with just an internet connection. There is no lengthy software installation process nor any need to set up other network systems such as a firewall.
Once set up on the cloud, your whole team can enjoy easy and flexible access to all documents on all devices. They are able to create, share, edit, upload, and download documents remotely. They can even send faxes online! This makes both asynchronous and real-time collaboration remarkably simple. Additionally, important documents can be found easily through the search function. As a result, workflow can be sped up greatly.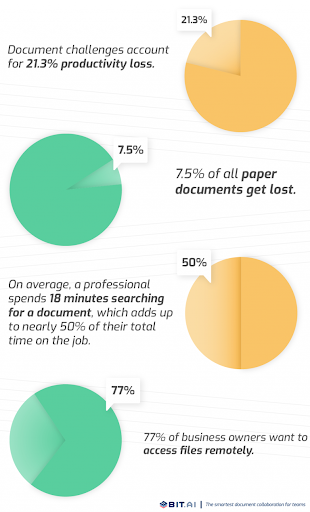 Source: Bit.Ai Blog
3. Secure Data Storage
Perhaps even more so than a for-profit business, nonprofits must make sure that all sensitive data is kept secure. Nonprofit organizations involve many people; employees, volunteers, donors, beneficiaries. By nature, they collect a lot of personal data which must remain confidential. For this reason, it's important to stay up to date with the best enterprise network security products. 
By adopting cloud technology, you can mitigate the risk of your data being lost or stolen. Strong cloud security and high-level encryption minimize the likelihood of any such misfortune occurring. Off-site storage also means you don't have to worry about physical damage to equipment or having to monitor your network constantly.
In the event of any security breach, data recovery and backup solutions are also available through cloud technology. Threat actors can target your devices both online and offline. Whether it be a virus or a pickpocket that compromises your device, your data will be waiting for you safely in the cloud. This ensures business continuity.
4. Volunteer Management
Cloud technology can also provide tools to handle the administrative stress of managing volunteers easily, allowing you to dedicate more of your time to your cause. For example, you can centralize all volunteer data onto a cloud-based customer relationship management system. Here, you can create and store volunteer profiles to assign them to a compatible job or campaign. 
This central hub allows you to see which tasks a volunteer has completed and how many hours they have worked. Volunteers can input this information from their own interface, accessible on mobile and computer. They can also receive messages, notifications, and updates here. 
This seamless, omnichannel system improves organizational efficiency as well as reduces administrative hassle. User-focused tools such as this will have a positive impact on the experience of your volunteers.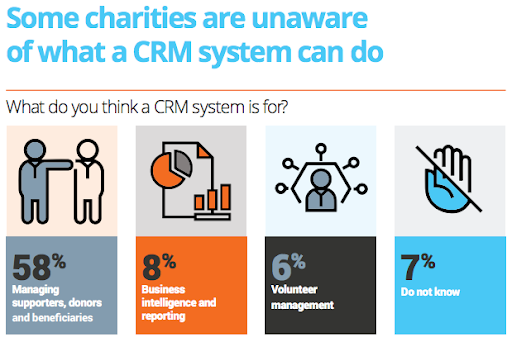 Source: Salesforce
You can also create application forms that are easy to complete and share with others. Having an application system that is easy to navigate will attract an increased number of volunteers. These applications can be reviewed by anyone on your team; access is no longer limited by geography.
Indeed, geography is no longer a limiting factor for volunteers either. Many cloud services offer two-way communication and teleconferencing functionality. There are advantages and disadvantages of VoIP phone system adoption. However, a cloud-based solution can be vital for bringing global volunteers together.
Such services can act as a center for larger conferences as well as being a space for smaller teams to gather. Volunteers are the heart of any nonprofit organization, and cloud technologies work as the veins and arteries which support them in their mission.
---
About the Author
Sam O'Brien is the Director of Digital and Growth for EMEA at RingCentral, a Global VoIP, video conferencing and call centre software provider. Sam has a passion for innovation and loves exploring ways to collaborate more with dispersed teams. He has written for websites such as Novatech and Multibriefs. You can follow him on LinkedIn.