In my previous February Freebies post, I shared six free graphic editing tools for your marketing and communications team. For this post, I'd like to focus on the dedicated folks at the center of every nonprofit operation: the program team!
I'll be the first to admit that "program" is a broad term: nonprofit programs can be anything from running food banks, to organizing peer-to-peer support groups, to managing after-school tutoring sessions. Finding tools that would be helpful for all program staff proved to be challenging, however I noticed that there are a few common pain points shared by all program teams:
communicating with volunteers and peers outside of your organization,
finding an easy way to document your practices and policies,
keeping tasks organized and managing incoming requests (especially from your inbox!),
effectively collaborating with peers,
and efficiently scheduling meetings.
If any of these pain points resonate with you, read on to see which tool could potentially help!
1. Unison.io, for hassle-free communication with volunteers and external peers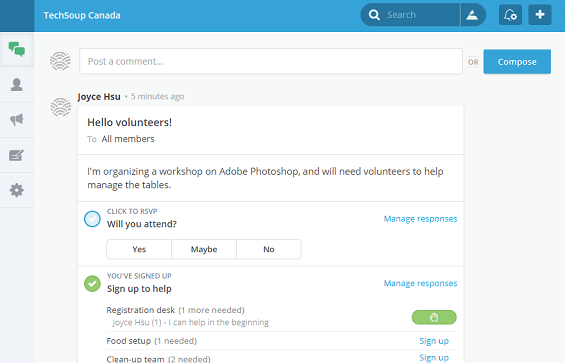 Unison is by far the easiest cross-platform communication tool I've used in a while. On the free individual plan, you can invite up to 50 people as members to your group board, and they can participate and join right away (no member login required).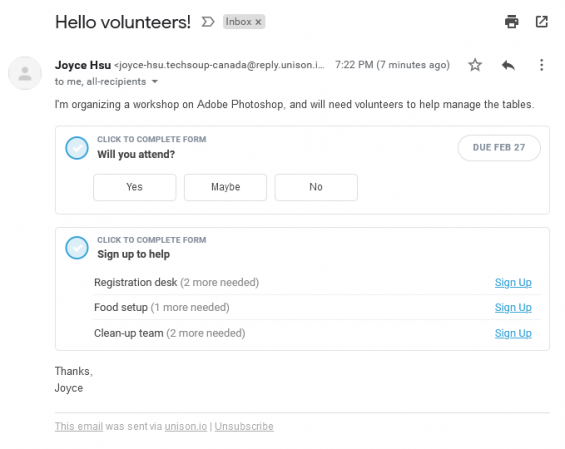 You can send messages, polls, RSVPs and signups to group members via email and/or text (first 25 text messages are free, additional texts are then billed at USD $0.01 per message sent or received), and even create events, upload documents, and track tasks for members to complete.
2. Atlassian Confluence, to document your work and best practices*
*While Confluence is a comprehensive collaboration tool, for this post I'm only covering their documentation capabilities.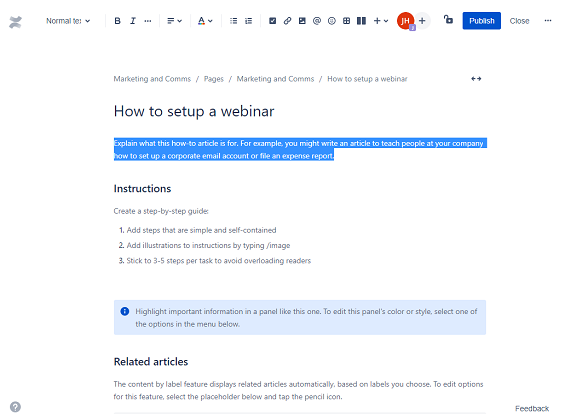 Ideal for quick documentation and knowledge sharing, Confluence comes ready with pre-designed templates (such as the above 'how-to' template) so you can get started instantly and modify the documentation to suit your needs. Confluence also has a handy feature that allows users to export pages to PDF or Word, making sharing documentation even easier. The free plan allows up to 10 users and 2 GB of file storage.
3. Asana, for managing your tasks
With Asana, you can easily keep track of your tasks and projects as to-do lists or kanban boards. Not sure which view is best for managing your work? No worries - you can seamlessly switch between the two views after creating your project.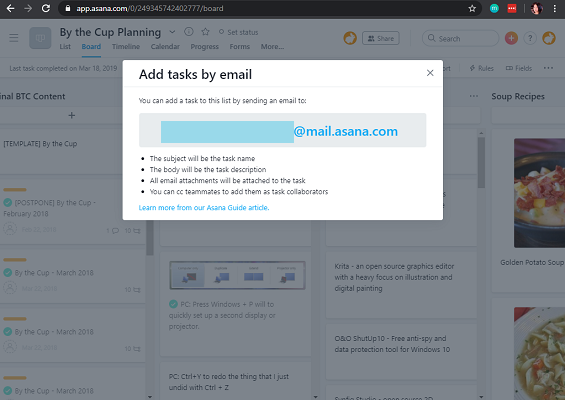 You can also create tasks directly from your inbox by sending emails to your Asana project (each Asana project as its own unique email ID) and Asana will conveniently auto-fill a few details for you: email subjects become the task's name, email content will be pasted in the task description, email attachments will be added as attachments to the task, and any teammates that are CC'd in the email are added as task collaborators. 
4. Box, for cross-platform collaboration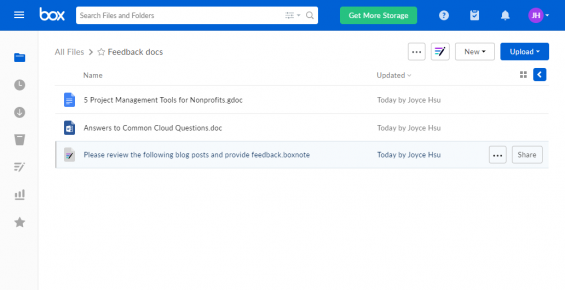 Box is best suited for content sharing and cross-platform collaboration, as it integrates well with both Microsoft Office and G-Suite. If collaborators would like to make comprehensive edits to a file, a quick install of Box Tools will allow them to open the document in its original software (e.g., Microsoft Word, Google doc) and make their changes. Once the file is saved, the document on Box will be automatically updated.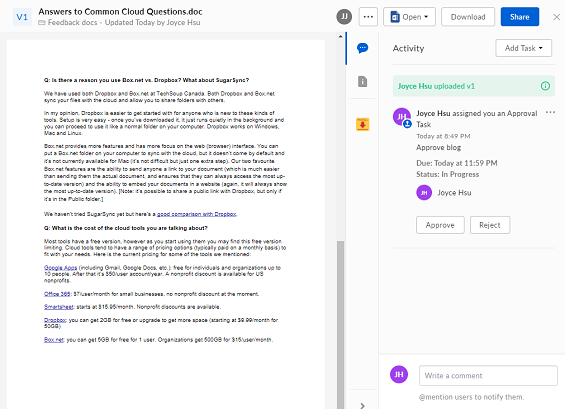 You can also add simple tasks and notes to documents and folders Box (e.g, "Provide Approval by X date"), making it even easier for collaborators to provide immediate feedback. Box's free/personal plan provides up to 10 GB of storage, or you can get 10 perpetual user licenses for Box Starter Edition (up to 100 GBs of storage) through TechSoup Canada.
5. Framadate, for efficient scheduling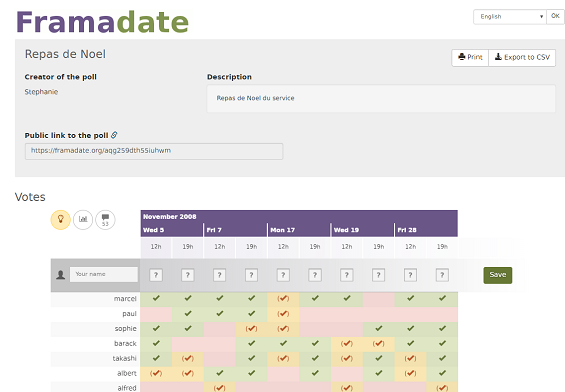 Framadate is a simple, ad-free online meeting planner that is perfect for making decisions quickly and easily. No registration is required, so you can set up a poll or meeting request right away. And personally for me, an added bonus is that Framadate is created by the Framasoft team, a small French nonprofit with a mission to promote digital freedom through practical and useful projects.
I hope you've found this round-up useful! In next February Freebies post, I'll share a few tools and resources that can help your tech team securely track your organization's logins and accounts, and remotely troubleshoot your team's devices. 'Till next time!